USE SALT TO DEGREASE CLOTHES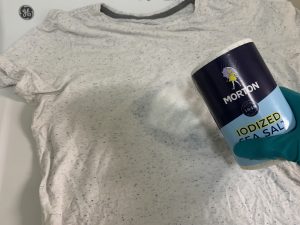 Getting grease stains on clothes can make your whole outfit look bad. So it's best to avoid that. But if you already had grease stains on your clothes you can try this tip. Mix some salt and warm water in a cup and pour a little water on the stained area. Now sprinkle 1/4 cup of salt on that area and use a spare toothbrush to remove the stain.
USE VINEGAR  TO CLEAN COUNTERTOPS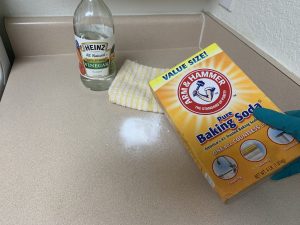 The Amish use vinegar to clean a lot of stuff. Vinegar also works as a great cleaning agent. So one of the best ways to clean your countertops is to use vinegar. First, get a clean damp cloth and pour 1/2 cup of vinegar on it. Then use the cloth to wipe the countertops. After that use a second damp cleaning cloth and wipe the countertops again to get rid of the vinegar smell.
If there is a lot of dirt and grime on your countertops try mixing 1 cup of vinegar and 1/2 cup of baking soda in a small dish or container and dip a damp cloth into the mixture and wipe the reason your countertops that has a lot of dirt and grime.
USE VINEGAR TO CLEAN TILE FLOORS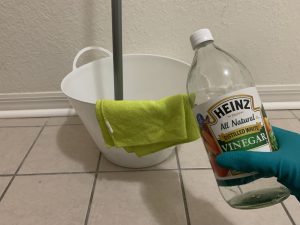 Tiles floors can get dirty very easily. One mistake people usually make when cleaning tiled floors are using bleach on them. This will make your tiled floors feel sticky and nasty. But instead of using bleach, you can use vinegar. You might be asking how do you clean tile floors with vinegar? Well To clean your tile floors properly you first need to get half a bucket of water and pour 2 cups of vinegar in it. Also, put a few drops of citrus essential oil in the water.
Now use a clean mop to wipe the tile floors with the mixture.
RESTORE OLD UTENSILS WITH THIS TRICK
If you have old utensils that are starting to rust a little; you probably shouldn't throw them away just yet. First, you need to get a large bowl or container and place the utensils in it. Then fill the container with warm water (fill it up to the top) then pour 2 cups of vinegar in the container and let the utensil sit in it for a couple of hours(best to leave them overnight). Then in the morning, you should clean the utensil with dish soap and you'll realize that the rust is gone or barely visible.
USE RUBBING ALCOHOL TO CLEAN GLASS
Most Amish seems to use rubbing alcohol instead of glass cleaner. This is not a bad idea as it basically does the same thing. To clean your glass with rubbing alcohol you need to put a spray nozzle on the bottle of rubbing alcohol and spray it on the glass then use a microfiber cloth to wipe the glass. Your glass windows or mirrors will be looking very clean after doing this.
DIY AMISH FABRIC SOFTENER
This one is probably the most creative Amish tip. So basically what you need to do is to add 4 cups of water, 2 cups of vinegar, and 5 drops of your best-smelling essential oils in a container. Now you can use this mixture as a substitute for fabric softener.
CLEAN STOVETOP WITH BAKING SODA AND DISH SOAP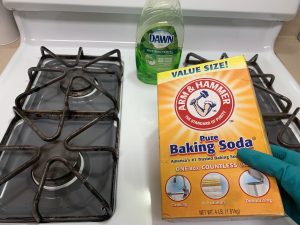 The way most Amish clean their stovetops is that they sprinkle baking soda all over the stove then squeeze a few drops of dish soap on a warm damp cloth and scrub the stove.