I made this list to show you how to clean your bathroom.
I also included some hacks as well.
I will also go in-depth on how to clean your bathroom walls, floor, bathtub, etc.
1.USE DRYER SHEETS TO CLEAN THE TUB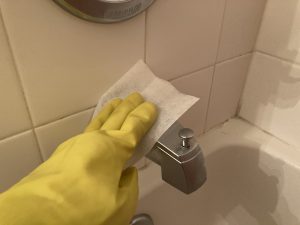 A dirty bathtub is really disgusting to look at. Especially when you are taking a bath in it. All the dirt and grime in it was built up over time.
To properly clean your bathtub, just follow this simple trick. Dip a dryer sheet in warm water and scrub the tub.
Make sure to scrub really hard to see better results. If the dryer sheet is not effective, try sprinkling powder soap on and scrub the dirt and grime away. This hack is very useful to me as it helped me with my bathroom cleaning.
2. Clean bathroom mirrors with vinegar and warm water
Bathroom mirrors can get messy very easily which makes them very hard to clean at times. Most people have this problem and trust me no one likes it.
This is caused by water spots. To clean your bathroom mirror is actually easier than you may have thought.
What you need to do is mix warm water and about 1/2 cup of vinegar and put the mixture in a spray bottle. Then spray the mixture on the mirror and use a soft microfibre cloth to wipe it. doing this will make your bathroom mirrors clear again.
3. REMOVE SOAP SCUM WITH COOKING SPRAY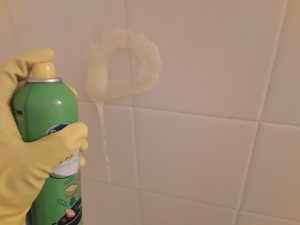 Cleaning a shower is not easy and fun. Getting rid of the dirt and grime is one thing but removing soap scum is a whole different story. Let me explain to you how soap scum is formed. It is formed when soap mixes with hard water. This happens when you are taking a shower and the soap gets everywhere.
Now to get rid of the soap scum you need to spray cooking spray on the shower walls and the shower curtains, yes you heard that right cooking spray.  It might sound weird but this trick helped a lot of people in getting rid of soap scum. After spraying the cooking spray, use a dry cloth to wipe the oil away.
 Then use a damp cloth to finish wiping the area. There will be no more soap scum in your shower after doing this hack.
4. USE VINEGAR OR BLEACH TO CLEAN BATHROOM COUNTERTOPS AND FACE BASINS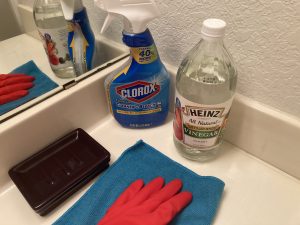 Sometimes water spots can start to appear in your face basin or your countertops. To prevent them is really easy, just wipe up any water spills you make.
But to get rid of them you will need to use bleach (if your countertop or face basin is white) to wipe the water spots or dirt/grime.
If you don't have any bleach just use vinegar. It is best if you use a sponge and soap to scrub away the dirt or grime.
5.CLEAN SHOWER HEADS WITH VINEGAR OR BLEACH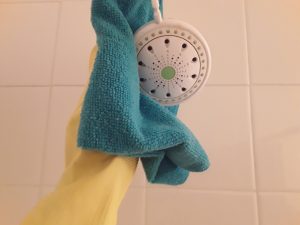 I know there is a lot of vinegar uses in this article already but when it comes on to cleaning things vinegar can be really useful. All you have to do for this method is to fill a large container with bleach or vinegar.
I recommend if you only use the vinegar as the bleach may strip away the color of your shower head. Then place the showerhead in the container and let it stay there for about an hour. Your showerhead should be really clean after doing this.
6.CLEAN SHOWER CURTAINS WITH BLEACH AND VINEGAR
Having a clean shower curtain is something that you need to have in your bathroom. Shower curtains need to be cleaned every month. If you don't do this it will start to smell really awful, which will eventually cause the rest of your bathroom to smell disgusting as well.
To clean your shower curtains properly you need to mix about 1 cup of baking soda, and 2 cups of vinegar in a bucket of water.
It's best to use a soft cloth when wiping the shower curtains. This hack helped me and a lot of other people to clean their shower curtains.
7.HOW TO CLEAN SHOWER TILE WALLS WITH VINEGAR AND BAKING SODA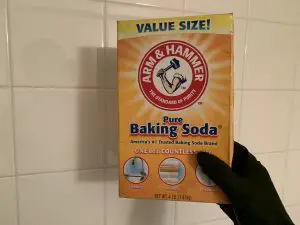 Shower tiles can look really nasty at times. It can be because of the soap scum or hard water spots. Sometimes it might be dirt and grime. Whatever the problem is; no one likes a nasty shower wall. Because we don't want to be grossed out when taking a shower.
To clean your shower tiles you need to get a clean cloth or sponge and pour 1 cup of vinegar and baking soda on it.
This is the perfect mixture as both the vinegar and baking soda will form a paste-like substance. Wipe the walls with the substance. After doing that use another clean damp cloth to wipe away the baking soda and vinegar residue. Your bathroom walls will look shiny and clean after doing this trick.
8.HOW TO CLEAN YOUR BATHROOM TUB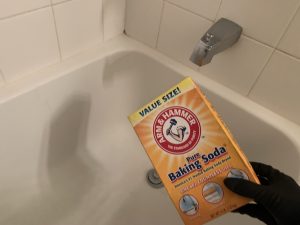 There are many ways to clean your bathroom tub. A good way to clean your bathtub is to use borax. Borax is slowly becoming one of my favorite DIY cleaning products. It can clean most white surfaces. I use it as my bleach substitute because it doesn't burn my eyes like most bleaches.
This bathtub cleaning hack is very simple to do, all you need to do is pour about 3-4 cups of borax inside the bathtub. Next, get a sponge and start scrubbing.
When you are finished scrubbing rinse away the borax residue with water. By doing this you will have a very clean bathtub and you won't feel disgusted while using it.
HOW TO CLEAN BATHTUB WITH BAKING SODA
The best way to clean your bathtub with baking soda is to sprinkle 3 cups of baking soda all over inside the bathtub. Let the baking soda sit in the bathtub for 10 minutes then squeeze 7 drops of dish soap in the tub. Then use a wet cleaning brush to clean inside the tub. Be sure to clean the bathtub floor as well.
9.DIY TOILET DEODORIZER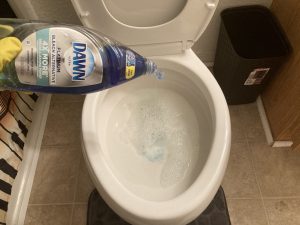 No one likes a stinky toilet. I've had toilet issues in the past. And I was scared to let visitors use my bathroom because of it. So if you are in the same situation just try this simple hack. Pour 2-3 cups of baking soda into the toilet tank. This is only if you don't have any borax.
After doing this you will realize that every time you flush you will see some baking soda particle in the toilet. You can pour 1 cup of dawn dish soap inside of your toilet if you don't have any baking soda.
This is a good thing because it will make your toilet smell odorless and fresh.
10. HOW TO CLEAN AND UNCLOG BATHROOM SINK DRAIN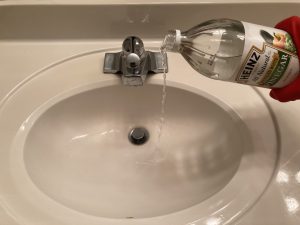 Bathroom drains get clogged a lot and not only that but they also get really filthy at times. Mainly because a lot of hair goes down in them. Grout also starts to form in them. Clogged drains are really frustrating to deal with. Clearing and cleaning your bathroom sink drain is quite easy.
All you need is 2 things for this. You need 1-3 cups of baking soda and 1 cup of vinegar.
HERE IS HOW TO CLEAN AND UNCLOG YOUR BATHROOM SINK DRAIN WITH BAKING SODA AND VINEGAR.
The first thing you need to do is to pour the baking soda down the sink drain then immediately pour the vinegar in it as well.
Then after doing this pour about 1-3 cups of boiling water into the sink drain. Remember not to pour too much water in the drain because you don't want it to overflow. After doing this your bathroom drains should be clean and unclogged.
Another thing you can do is to mix both the vinegar and the baking soda together. Then as soon as your done mixing the two together just pour the mixture into the sink drain.
11. REMOVE TOILET STAINS WITH BORAX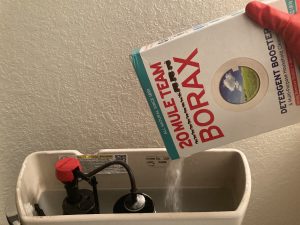 Everyone loves a clean toilet. Mostly because it looks nice and it's a good feeling knowing that if you have visitors over you won't be embarrassed when they ask to use the bathroom. To make sure your toilet bowl is clean what you need to do is throw about 1-3 cups of borax and 1 cup of vinegar into the bowl.
Let the mixture sit in the bowl for about 7 minutes. Now use a toilet brush to scrub inside, then flush. After doing this, inside your toilet bowl will not only smell amazing but it will also look clean.
12. HERE IS HOW TO CLEAN BATHROOM GROUT AND MOLD WITHOUT SCRUBBING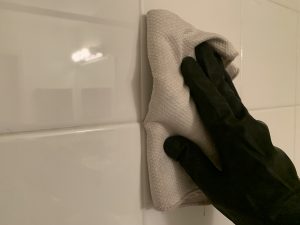 In order to clean your bathroom grout, there is a product that you need to get. This wonderful product is called scrubbing bubbles. After you get a scrubbing bubbles spray; it's time to focus on cleaning the bathroom grout and mold without scrubbing.
Spray the can of scrubbing bubbles all over where the grout and mold are (be sure to spray a lot ). Then let it sit there for about 5 minutes. Then afterward use a soft cloth to wipe away the scrubbing bubbles residue. This will also clean the grout and mold from that area you wiped.
What I mentioned above is the easiest way to clean grout and mold without scrubbing. But there is another method below on how to clean grout from your bathroom.
CLEANING GROUT AND MOLD WITH BAKING SODA AND BLEACH
This method involves scrubbing. For this you need to get a scrub sponge that's damp and soapy, then pour 1/4 cup of diluted bleach on the sponge (make sure you are wearing cleaning gloves) and also sprinkle baking soda all over it. Now use the sponge to scrub the grout and mold away.
13. USE TOOTHPASTE TO CLEAN YOUR TOILET BOWL
For this trick, you need to get an old toothbrush or just a normal brush. Put toothpaste on the brush, then sprinkle some water on it.
Now use the brush to scrub your toilet bowl. Make sure to put a great amount of toothpaste on the brush to do this hack properly.
14. USE FABULOSO TO FRESHEN UP THE TOILET
Pour 2 cups of fabuloso into the toilet bowl. This will give your toilet a nice smell.
You can also use a sponge instead of a brush. But using a brush is more effective.
Thank you for stopping by, please share this post with friends, see you soon.
15. HOW TO CLEAN BATHROOM RUGS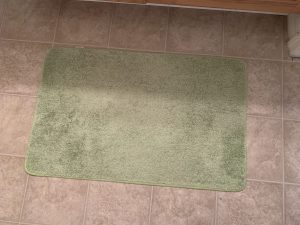 Cleaning bathroom rugs is something that most people don't seem to do that often. But did you know that bathroom rugs can be one of the main reasons for a smelly bathroom? Here is how to clean your bathroom rugs.
Just simply put them in the washer. But if you don't want to put them in the washer you can use a vacuum to do the job.
HOW TO VACUUM BATH RUGS
To vacuum your bath rugs what you need to do is to place something heavy on the end of the rug. This can either be your foot or something else. Now use the vacuum to clean everywhere on the bath rugs.
16. HOW TO CLEAN BATHROOM TILE FLOOR
To deep clean your bathroom tile floor you first need to do the following. Start by getting rid of the dust that's on the tile floor by either sweeping or vacuuming. Then use a mop to wipe the floor. The best mop to clean any bathroom tile floors is the Swiffer wet jet (the best mop for me at least). If you have a Swiffer wet jet or an ordinary mop use it to clean and wipe your bathroom tile floors until they look sparkly and clean.