This article may contain affiliate links. Please read full disclosure for more information.
1. MICROWAVE SPONGE TO GET RID OF GERMS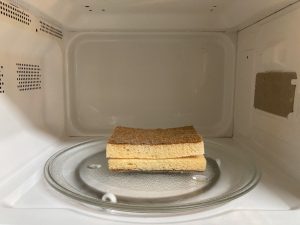 Using a sponge to clean a lot will eventually make it have a lot of germs. To properly clean your sponge you need to do the following.
Put the sponge in the microwave and let the microwave run for 3 minutes. All the germs and bacteria will be gone from the sponge after doing this.
2.USE LEMONS TO CLEAN CUTTING BOARDS
Sometimes when we use cutting boards the food gets stuck in places where it is hard to see. This will cause the board to smell disgusting. When this happens you have to do this simple trick.
Pour salt all over the cutting board and use a lemon slice to scrub it.
This will not only clean the cutting board but it will also make it smell better.
3.FRESHEN LAUNDRY WITH LYSOL AND LEMONS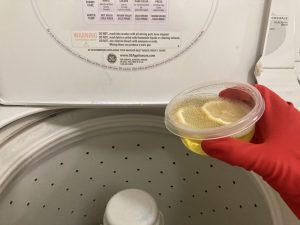 By doing this hack you will create your very own laundry booster. This hack is very simple to do. All you have to do is pour some lemon juice or lemon essential oil (freshly squeezed lemons) in 1/2 cup of water(make sure it's about 3 cork full of lemon juice) and mix with 3 cups of Lysol.
After putting your laundry in the washer, you should pour the mixture on them.
You should use soap as well because the mixture only works as a laundry booster. Your clothes will smell wonderful after doing this.
4.USE RUBBING ALCOHOL AS GLASS CLEANER
Glass cleaners can be very expensive. So if you want to make your very own DIY glass cleaner you should do this simple trick. Mix 1 cup of vinegar with 1 cup of rubbing alcohol.
Pour the mixture in a spray bottle and spray the glass. Make sure you use a microfibre cloth to wipe the glass.
By doing this your glass will be looking very clean.
5.SHINE WOODEN SURFACES WITH MURPHY'S OIL SOAP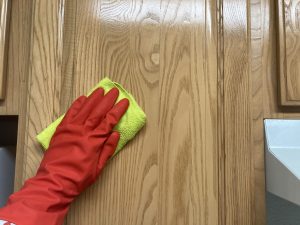 Wooden objects gets dusty and dirty over time. To shine wooden surfaces you need to do this simple trick. Sprinkle or spray murphy's oil soap on a damp cloth and wipe the wooden furniture.
If you want to polish Your wooden floor, you need to pour 1 cup of murphy's oil soap on the floor and use a clean damp mop to mop the floor.
This will make your wooden surfaces look shiny.
6.CLEAN STOVE WITH BORAX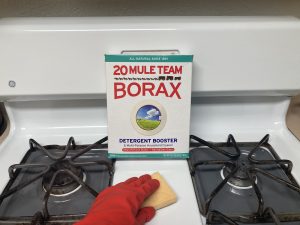 If you have tough grease stains on your stove and want to get rid of them. Just do this simple hack. Pour 1 cup of borax on your stove and use a sponge to scrub it.
This will not only clean your stove, it will remove any stains that were on the stove.
7.LYSOL, VINEGAR AND DAWN CARPET STAIN REMOVER
No one likes carpet stains as much as I do. Stains ruin the beauty of the carpet in homes. If you have a lot of carpet stains and want to get rid of them just do the following.
Mix 1 cup of Lysol surface cleaner, 1 cup of dawn dish soap, and 1 cup of vinegar. Pour the mixture into a spray bottle.
Now spray wherever the stains are located on the carpet. Now get an old clothe brush and gently scrub the carpet. The stains will be gone in no time.
8. BAKING SODA TOILET CLEANER
For this tip, you need to have a sponge that can scrub areas properly. Make sure the sponge is damp. Pour 1 cup of baking soda, and dish soap on it. Then use it to scrub the toilet.
If you want to clean the inside of the toilet pour 2 cups of baking soda into the toilet tank. This will clean the inside of the toilet and will also deodorize it.
Your toilet should look spotless and clean after doing this trick.
9.SOAP IN SPONGE
This hack is very easy to do. All you have to do is cut open one side of the sponge(make it shape like a pocket) and place a small bar of soap in it.
With this sponge, you can clean any area around your home without worrying if the sponge is sudsy enough.
The best areas and things to clean with this sponge are the kitchen countertops, shower wall, bathtub, face basin, baseboards, white shoes, etc.
10. DIY AIR FRESHENER SPRAY
This one is very simple. What you need to do is pour 1 cup of fabric softener and 1 cup of water into a spray bottle. That's it; it's that simple.
With this, you can spray areas such as the carpet, sofa, curtains, etc.
11. FELS-NAPTHA CLEANING SPRAY
For this hack, you need to boil a bar of Fels Naptha soap in a pot of water. After 2-5 minutes throw the water that's in the pot into a small spray bottle.
Now you can spray areas such as the carpets, Facebasin, stains on clothing, bathtub, the shower wall, white shoes, etc.
12. USE SCRUBBING BUBBLES TO REMOVE FINGERPRINTS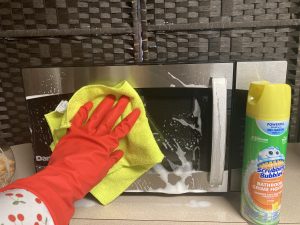 Fingerprints are almost everywhere. Usually, because we touch a lot of things. Kids do this but way more than adults.
To properly remove fingerprints you need to spray scrubbing bubbles on the area and wipe with a high-quality microfiber cleaning cloth. Found this on Amazon…  Large Lint Free Microfiber Cleaning Cloth
This will remove any fingerprint that was in the area.
LET'S DECORATE
So, now you have done deep cleaning your home and it's time to add a touch of new decor. Decor can be the simplest item just as long as you know where to place it and how to use it.  Here are a few decor accessories tips below.
kITCHEN DECOR IDEAS
Bowls are a cheap but elegant way of adding a touch of classiness to your kitchen. Bamboo serving bowls are a good way to start. These can be placed on your dining table set and also on a serving bowl, found this on Amazon KGV BAMBOO SERVING BOWL.
To get that farmhouse feel mortar and pestle spice grinders do the trick for kitchen countertops…Mortar and Pestle Wooden Spice Grinder
FLOWERS
Flowers are an amazing way to add beauty to your home. Place bouquets of flowers all around your home to create that cozy feel.
We hope these tips were helpful.