This article may contain affiliate links. Please read full disclosure for more information.
1. DEODORIZES THE REFRIGERATOR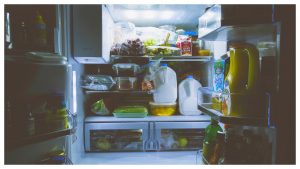 No one likes a nasty smelling fridge. Having a foul-smelling fridge can cause your kitchen and even the other rooms in your home to smell awful.
Now, what you need to do if you want to get rid of the disgusting smell out of your fridge is to mix 1/2 cup of baking soda with 6 squeezes of dawn dish soap with about 1 cup of water and a cork full of bleach.
With this mixture, spray it in the refrigerator. Don't forget to spray the stained areas. as well. After doing this wipe inside of the refrigerator with a soft cloth. Your fridge should be smelling wonderful after doing this.
.
2.CLEANSE FRUITS OR VEGGIES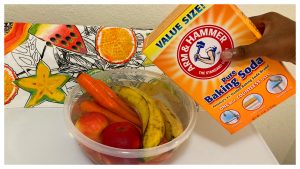 Everybody loves fruits and veggies. They taste delicious and they provide a lot of benefits to your body. So  If you want to make sure your fruits and vegetables are clean.
You should try cleaning them by leaving them in baking soda and water. Leave them in the mixture for about 10 minutes.
After doing this your fruits and veggies should be extra clean and safe to eat.
.
3.CLEANS GREASY DISHES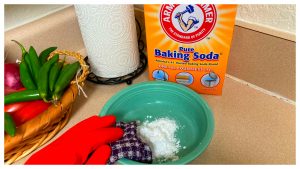 Greasy dishes are really difficult to clean most times. People might give you some solutions but, those tips that they are giving don't really help.
Don't worry because I've got something that might help. To get rid of the grease you need to use warm water and baking soda, that's it.
First, dip the sponge in the warm water then sprinkle some baking soda on the sponge then start scrubbing the dishes. After doing this your dishes should be looking clean and spotless, getting rid of the nasty grease.
.
4.USE BAKING SODA TO REMOVE MILDEW your BATHROOM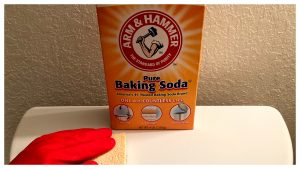 Bathroom tubs, tiles, and shower curtains can get really dirty and they also can grow mildew on them., and let's be honest no one likes a dirty bathroom. I hate it more than anyone else.
But there are some good ways to clean your bathroom with baking soda, What you need to do is get a damp sponge then sprinkle a lot of baking soda on it then start cleaning wherever the mildew has built up. You can use bleach and vinegar if you want more effectiveness.
.
5. USE IT TO DECLOGS DRAINS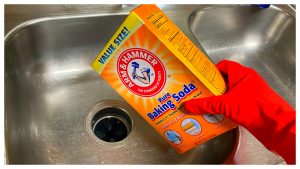 As someone that had a lot of clogged drains, it can get really frustrating especially if you leave the pipe running while using it.I'm going to show you a trick to get rid of your clogged drains.
Here's the thing you need to do, get some warm water in a large container and get about 1/2 cup of vinegar and 1/2 cup baking soda.
First, pour the baking soda into the drain, next pour the vinegar and water in.  It should take about 5 minutes to clear the drain. Remember don't pour too much water in the drain because it might overflow.
.
6.DEODORIZES TRASH CANS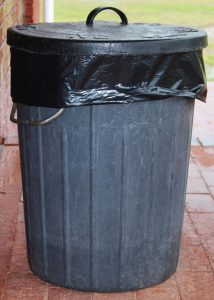 Bad smelling trash cans are disgusting. If you have it in your yard it can turn off a lot of people from visiting. And it can annoy a lot of people passing by.
To prevent this from happening you should try this simple trick. Pour about 3-5 cups of baking soda at the bottom of the trash can.
Baking soda will help to absorb the odor from the trash can. This trick will make your trash cans smell a lot better.
.
7.CLEANS STOVE TOPS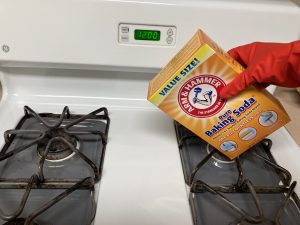 Don't you hate when you're finished cooking and you're left with an unclean and stained stovetop? Trust me everyone hates it.
To clean your stove properly just try this trick. Pour about 2-3  cork full of vinegar on a sponge then sprinkle about 1/2 cup of baking soda all over the stovetop.
Then scrub really hard especially the stained areas. Your stove should be looking sparkly and clean after doing this.
8.USE IT TO FRESHEN SHOES
All you gotta do is sprinkle some baking soda inside of your shoe. Now leave it in the shoe for an hour.
Now your shoes will smell better after this.
9.SPRINKLE IT ON THE CARPET TO DEODORIZE IT
Sprinkle baking soda all over your carpet and leave it there for an hour or 2.Then  vacuum the carpet. Make sure to vacuum every baking soda residue.
Your carpet will be smelling better after doing this.
10. REMOVE STAINS OUT OF  CLOTHING
Sprinkle some baking soda and dish soap on the stained area. Now use a toothbrush to scrub the mixture over the stained area. Then put the clothing in the washing machine after.
This will make your clothing look good as new.